Lockdown 3.0 - 24/7 support as usual
5th January 2021
Since the outbreak of the Coronavirus last March, we have put extensive safety measures in place to maximise the safety of our team, customers and suppliers to ensure that we can continue to play our part in keeping supply chains moving. Our Covid working practices are under continuous review and improvement and we continue to keep up to date with the latest guidelines so that we can confidently operate in a secure way with minimum risk of transmission. As such, during this latest lockdown, our service provision will remain the same, as will our commitment to safety.
If you would like a copy of our full Covid19 Strategy please email us and we will send our comprehensive document. If you would like to discuss our policies please call 01432 277180.
For a brief outline of our strategy please continue reading below.
Our up to date House Rules are as follows:
Infinity House
We are working from home where possible. Where staff remain working from Infinity House, we have bubbles in place and very clear operational guidelines to minimise the risk of Covid-19 transmission. We have adapted all of our working procedures to minimise contact and maximise
Visitors
Sadly our doors at Infinity House are closed to all but the most essential visitors and you may only visit HFT if you have a pre-arranged appointment. You must also complete our Covid-19 Questionnaire at the bottom of this page 24 hours in advance.
On arrival please wait at the designated area in Reception, sign in using the pre-registered QR Code Contactless and sanitise your hands. Your temperature will be taken and you will be provided with a face mask and gloves to be worn during your visit. We politely insist that you adhere to Social Distancing at all times when in the building.
We hope that this is a short term measure and we will be able to welcome visitors soon.
Servicing, Breakdowns and Thorough Examinations
We will continue to contact you when routine servicing and Thorough Examinations are due unless you advise us that you are temporarily closed or do not wish us to attend site. Please note that the HSE has made no allowances for Covid-19 with regards to maintenance of equipment. Our 24 hour breakdown service is operating as normal.
Our engineers attending site for servicing, breakdown and Through Examination will work as a self contained unit as far as possible. We ask that you leave equipment in an area that gives plenty of space for our engineer to work without risk of breaching social distancing guidelines. The truck will be thoroughly sanitised before and after work has been carried out and every van is equipped with a sink with hot running water so that there is no need to use any customer facilities. On completion the engineer will advise of the work carried out and any other necessary information (socially distanced and wearing PPE) and will request a verbal sign off rather than handing over the PDA for a signature. The measures we have put in place go above and beyond the industry standards set out by the FLTA so that we can give maximum protection.
Parts Enquiries
Please notify our team prior to your arrival and go to the marquee located in front of the Goods In door and either sanitise your hands using the sanitiser provided or wear a new pair of gloves to ring the bell and step back to allow a member of the team space to assist you. If you need to handle any goods, they will be out for you to contactless collection and gloves are provided.
Operator Training Delegates
Two of the leading governing bodies have identified Operator Training as a critical service for keyworkers in the supply chain that must continue throughout Lockdown. To ensure maximum safety, our Operator Training Centre is now a bubble and completely isolated from the rest of Infinity House. Although this means that you may not enter any other part of Infinity House while you are there for training, you will still be made to feel very welcome by our friendly instructors and receive our usual excellent standard of training.
Access to the Training Centre must be pre booked, this will be completed by one of our team and an email will be sent confirming the date and time of your visit - please fill out our Covid-19 Questionnaire at the bottom of this page 24 hours in advance. Your HFT Instructor will meet you outside the Training Centre on arrival and will sign you in as well as taking your temperature and providing you with your PPE kit of face mask and gloves which must be worn at all times as well as adhering to current Social Distancing guidelines. Social distancing alarms will be in use throughout the training course.
A temporary toilet has been provided at the side entrance to the building for Operator Training use only. Sadly, we can't provide you with refreshments any more and you are not permitted to use HFT's canteen. There is a fridge for food and drink storage however please bring your own mugs, plates and cutlery if you need them.
For update to date guidance regarding the regulations for Operator Training during the pandemic please click here.
All other services continue, adhering to our Covid secure policies and procedures and government guidelines
Sales | Hire & Transport | Servicing | Thorough Examinations | Parts | Racking | Warehouse & Storage
Polite Notice
Our teams have shown great commitment to stopping the spread of Coronavirus and are adhering to strict policies in and around our building whilst remaining dedicated to our customers. For everyone's protection, if you are seen not following our House Rules you will be asked to leave the site immediately.
If you have any symptoms of Coronavirus, have been in contact with anyone who has Coronavirus within two weeks of your visit or have been told to isolate by the NHS Track and Trace system, please do not come to Infinity House.
Thank you for your co-operation and support.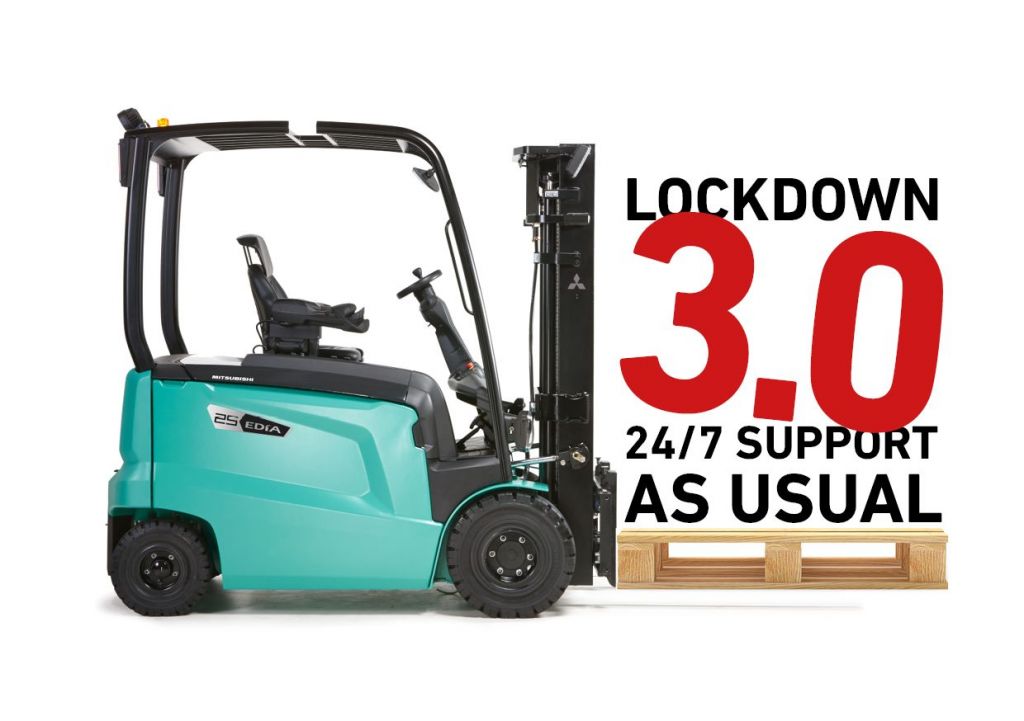 Visitor/Contractor COVID-19 Questionnaire