FLTA Lifetime Achievement Award
10 October 2019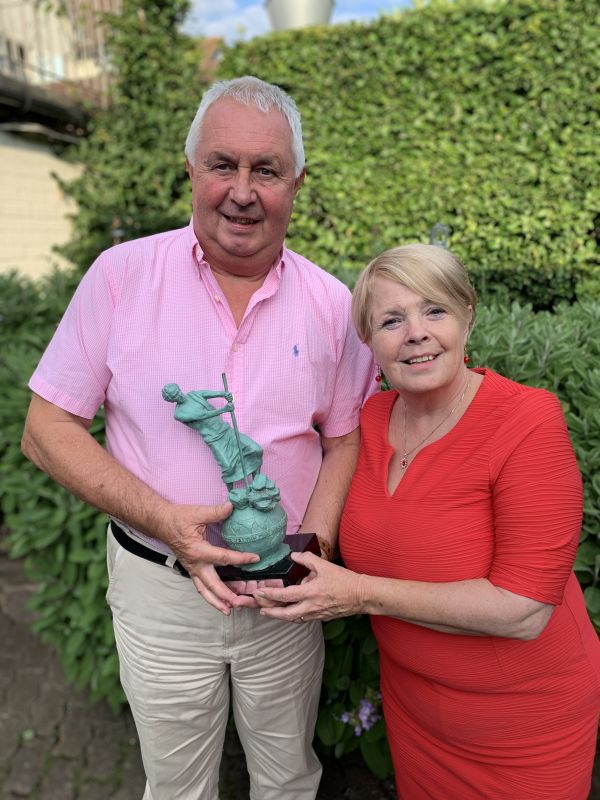 HFT owners Peter and Carole Crawford awarded joint Lifetime Achievement Award by the Fork Lift Truck Association at Annual Awards for Excellence
Against the backdrop of an illustrious career spanning 35 years, Peter and Carole Crawford have earned well-deserved recognition for their family-run forklift dealership, becoming the first couple to receive the Lifetime Achievement Award.
Unable to make the awards night itself, Peter and Carole were presented with their Archie by Jon Buckley of Toyota — sponsor of the FLTA Awards — during a surprise visit at the HFT site in Hereford.
HFT Managing Director and the couple's daughter, Zoe Ferriday, later accepted the accolade on the couple's behalf at the official FLTA Awards for Excellence ceremony, held in March at the International Centre in Telford.
"It was an emotional night. I was very proud to be part of an event that recognised everything they have achieved," said Zoe. "They were very surprised to receive the award, and were extremely grateful and honoured. The Archie now has pride of place in the office for everyone to see."
Together, Peter and Carole Crawford built their business from the ground up. In 1984 they set up Severnside Hereford, becoming the main dealer for Nissan before taking on a Manitou dealership for rough terrain and construction equipment, and merging with the Severnside Mechanical Handling Group. After buying the company out in the early 1990s, it eventually became known as HFT Forklifts.
By adding a Driver Training Department, Peter and Carole were able to grow the business further, bolstered by an expansive portfolio of products and services to support all customer's materials handling requirements.
After parting ways with Nissan, HFT became dealers for Mitsubishi Forklift Trucks. Further additions of a handling and storage solutions store and a HGV for easier transport contributed to HFT's growing success.
Over the years HFT has gone from strength to strength, thanks to Peter and Carole's tireless efforts and dedication.
"They started in very humble positions and together they have always strived to build a business that was not just commercial but also ethical and community focused. Their partnership was key to their success," said Zoe.
HFT has received numerous awards to date, including Mitsubishi Dealer of the Year, Mitsubishi Gold Awards for Sales & Service, and Family Business of the Year 2017 from the Hereford Business Awards, among many, many more.
Throughout their career, Peter and Carole have maintained a steadfast commitment to their employees, encouraging training and engagement through bonus schemes, apprenticeships and mentoring programmes. As well as their love of family and forklifts, Peter and Carole have raised over £1 million for several charities close to their employees' hearts.
The family focus has remained strong over time. The couple's children, Zoe and Jamie, joined the business and spent time in a variety of roles before taking the reins full time as Managing Directors.
"The great relationships HFT has with staff carry over to our work with customers as well. We count many HFT customers as friends," said Zoe. "I have seen the journey my parents have been on with their business, and we aim to carry on the supportive culture they have created."
Peter and Carole have achieved a stellar career, and their professionalism continues to inspire others to follow in their footsteps.
To find out more about HFT, call 01432 277 180 or email our team.